There is a necessity to a good night spot.  But a go-to, default night spot, is a requirement like…shall we say, water?  Thom Bar is a hotel bar located in Soho, at 60 Thompson near Broome St.  Amongst its nearby neighbors - Soho Grand, Cipriani's, Diva, etc - Thom Bar leaves its mark.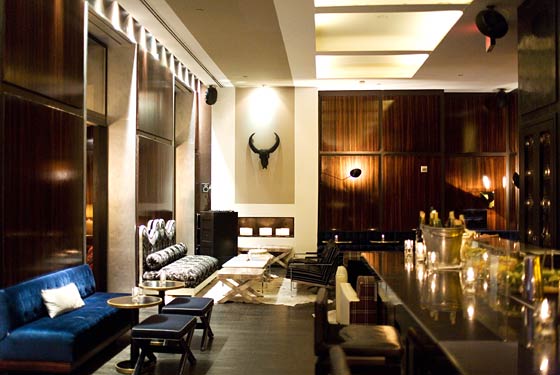 Above, you can see the main bar…multiple couches and table.  To the left (not pictured) are three cut out bays with the most comfortable square couches ever, and great for parties.  During the summer, Thom Bar has another members/guests only bar A60.  Not as live as the downstairs area, but a much more quiet and intimate setting for you and your friends.
Alas, Thom Bar is one of my city favorites because of the service, the vibe, and the music.  Service speaks for itself so let us dwell on the last two.
I have never been disappointed by a night of music at Thom.  From old school to current pop music, the mix is always great and will make you want to stand more than sit.  But the vibe is perfect for you to connect over conversation or celebrate over drinks and debauchery.  It has its nights of all out should-to-shoulder traffic, but it often has a good in-between level wear you can sit with your legs crosses and enjoy the scenary (as shown above).
Thom Bar is #tuckedapproved.  To follow my nightlife, make sure you check me out on Twitter @tuckedllc